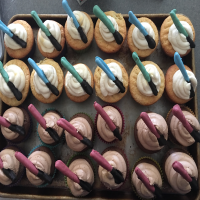 ---
I have been baking my whole life and I would love to run a bakery someday or to teach food. But first I need to get through school so every purchase is going into my school fund.
Services
BabysitterHighland, UT, 84003
$10.00 Hourly
I am willing to negotiate price and things like that depending on how many kids and how old they are. I work really well with kids, I actually used to work in a preschool and used to babysit my cousins.
Cupcakes For Every Occasion Highland, UT, 84003
$20.00 Per Service
I can make custom cupcakes for any occasion like birthday parties, weddings or just a get together. I can do different color schemes and toppings. I will also do any kind of cupcake and frosting types that you want but I am really good at American Buttercream. I am willing to negotiate price depending on what kind of cupcakes you get and how many you get. Use my business email shelby.cupcakes333@gmail.com.
Gigs