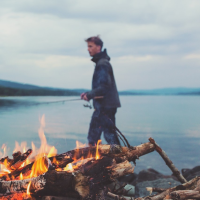 Luke Anderson
Camper and Wildlife Adventurist
---
I worked in the Provo Canyon this past summer and have been all over Utah finding the next biggest adventures in the great outdoors! I'm a wilderness survival guide for my friends and you won't get lost with me!
Services
Outdoor ExpertCedar City, Utah, 84720
$13.25 Hourly
I can help you plan your next outdoors trip, and tell you what the best canyons and roads and hikes are to see. I am super familiar with American Fork Canyon, Provo Canyon, and up north past Park City. I've been there myself and will help you find the best places to camp, fish, and hike! Email or text me, or visit my website to find out more. DollarProbs members get 25% off their first consultation session with me.
Gigs
Outdoors Camping Locator Cedar City, Utah, 84720
$9.99 Hourly
I need help preparing for a camp out, I don't know what the best types of clothing for warm and cold weather camping are, or what gear is needed and what you should leave behind. I'll pay someone 10 bucks if they help me get prepared for this weekend when I go out with my friends. Text me today!